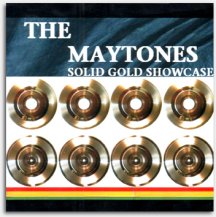 30 years after their beginnings, The Maytones a.k.a Mighty Maytones return with a new album titled Solid Gold Showcase.
This set mostly includes new showcase (vocals + dubs) songs recorded two previous years in Jamaica and Canada for Music Life Production and five 1970's tracks issued from their previous albums, Boat To Zion (1978), One Way (1979) and Keep The Fire Burning (1980).
The Jamaican duet presents 10 roots tracks as Play De Reggae Music based on Promised Land riddim or the great Lover Man for all love songs fans. Only beautiful and powerful vocal harmonies for this roots piece with Sly and Robbie, Don's B, The Revolutionaries or The Roots Radics as musicians. Do not miss it !