The 'Ancient Times' is the name of a new riddim from Kris Kemist at Reality Shock records. It is a real organic and earthy riddim that combines Nyahbinghi and Indian musical influences to create a powerful & epic acoustic anthem.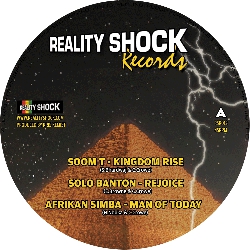 And it has just been released as a 6 track 12" E.P. featuring vocals from label stalwarts Solo Banton, Afrikan Simba, Aqua Livi, Deadly Hunta and new edition to the roster Glaswegian renegade artist Soom T, with a meditative Dub Mix featuring flute by Maija Vidovska completing proceedings.
Each of the vocal tracks has strong, conscious and heartical lyrics that fit this almost mystical riddim like a glove. UK roots legend and devout Rastafarian Aqua Livi, who sings with an authenticity and spirit which has been likened to that of the late Dennis Emmanuel Brown, provides vocals on the riddim title track Ancient Times a song about unity and oneness harking back to a time when all tribes were united, living and working on one accord.
Soom T, renowned for her eclectic vocal collaborations with the likes of The Orb, Asian Dub Foundation, Mungo's Hifi, Jahtari that has earned her a seemingly cult status amongst underground music followers worldwide, delivers powerful and deeply spiritual lyrics based on a Hindu prayer, titled Kingdom Rise in her uniquely energetic yet melodic vocal style. As Reality Shock's homegrown superstar Solo Banton sings Rejoice and gives thanks for the positive things in life while reflecting upon the blessings that we all too often take for granted.
Man of Today is the title of Afrikan Simba's lyrical take on the riddim inspired by his experiences in Ethiopia as he speaks of the times we are living in and warning of evil forces which could lead us down a path of destruction if we do not work hard to take action to become self-sufficient.
The final vocal on the riddim features Deadly Hunta in a style that many have probably not heard before as he recites excerpts from Revelation:18, a biblical chapter describing the fall of Babylon, a prophecy which many believe to be symbolic of the events playing out on the world stage today in a Dub Poetry fashion.
Ancient Times is out now on 12" vinyl and at iTunes and other leading digital download services.