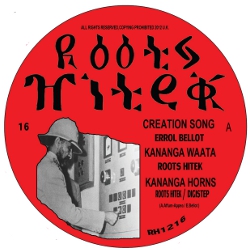 New from the Roots Hitek label is a 12" double A sided single release featuring veteran UK Sound System Roots Rocker Errol Bellot with a tune called Creation Song and guitarist /singer/songwriter King Saint from East London with One Jah.
There are 3 cuts of both riddims with Bellot's consisting of a vocal piece followed by a dub version and then a Horns Solo Dub featuring Digistep on saxophone and melodica. The riddim is also featured on Tenastelin's Rasta Ancient and is part of a series of tunes Errol Bellot has laid down at Roots Hitek Studio that are intended to follow in the very near future.

King Saint's One Jah, again has a straight vocal version, eschewing unity and clear purpose among mankind, followed by an instrumental cut then an acoustic Binghi mix with King Saint on rhythm and lead guitars, Kheru "Jahman" Dan on funde and Kette drums, saxophone from Digistep with backing vocals from Sista Beloved, Sista Fanti and Princess Carifa with additional percussion music and mix from Roots Hitek.
This release is available now from Dub Vendor and other leading outlets.