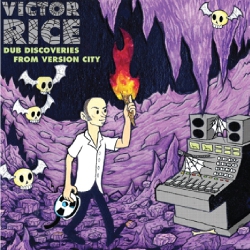 In honor of U.S. label Stubborn Records' 20th anniversary internationally acclaimed engineer and bassist Victor Rice and label owner and founder King Django have combed through the label's archives searching for beloved favorites from the likes of Stubborn All‐Stars, Westbound Train, Rocker‐T, The Radiation Kings, King Django and others.
They managed to dig out twelve tracks ranging from rocksteady and early reggae to roots and dancehall. Every tune has received a fresh dubwise treatment by Victor Rice in a psychedelic dub mix style and is collected on 'Dub Discoveries From Version City', a set which also includes a never‐before‐released track from Victor Rice himself.
Stubborn Records was founded in New York City by King Django and managed to define the sound of East Coast ska, rocksteady and reggae in the 1990's. King Django has made his name as a producer, engineer, bandleader, singer, songwriter, arranger, and instrumentalist, having worked with such bands as Rancid, The Slackers, Murphy's Law, The Toasters and as leader of Stubborn All-Stars and Skinnerbox.
'Dub Discoveries From Version City' is now available on CD and digital platforms worldwide.