On November 6 music and politics collide when former Jamaican Prime Minister, label executive and producer Edward Seaga selects 100 tracks ranging from Jimmy Cliff and Yellowman to Sean Paul and Mavado to celebrate the origins of Jamaican music and 50 years of independence from British rule.
Edward Seaga is the longest serving member of Jamaica's Parliament and the only surviving member of the legislature that drafted Jamaica's Constitution in 1962. He governed Jamaica 1980-1989, but was prior to his venture into politics a major pioneering force in the birth and development of the Jamaican music industry, especially the ska movement in the 1960s.
"Jamaican popular music demonstrated a triumph of creativity by borrowing nothing to build something," explains Edward Seaga in a press release.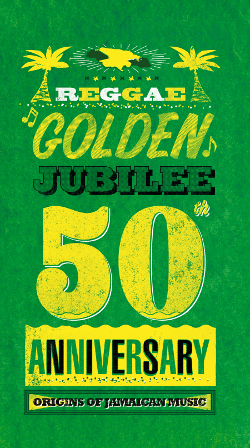 For the four disc deluxe compilation 'Reggae Golden Jubilee – Origins of Jamaican Music' Edward Seaga has handpicked 100 significant songs to emerge from the country to celebrate the island's half-century turn of liberation. The compilation encapsulates every era over last 50 years with double the hits from artists including Bob Marley and The Wailers, Gregory Isaacs, Dennis Brown, Marcia Griffiths, Lady Saw, Buju Banton, Warrior King, Shaggy, Sean Paul, Damian "Jr. Gong" Marley and many more.
To accompany the music, Edward Seaga has written extensive liner notes and track-by-track notations in the box set's 64-page booklet. The commemorative package also includes photographs from Jamaica's first fifty years, a preface from VP Records President Christopher Chin and a foreword from radio personality Dermot Hussey and reggae historian John Masouri.
"My family and I have witnessed the evolution of Jamaican music and its impact around the world. This rich music is not only the foundation of my family's business but on a personal level became the soundtrack of life memories," states VP Records President Christopher Chin in a press release.
Edward Seaga was born in Boston to a Jamaican-Lebanese family and graduated from Harvard University in 1952 with a B.A. in Social Sciences. Three years later he supervised the recording of an album of ethnic music and also founded his own label WIRL (West Indies Recording Limited) and signed Byron Lee & the Dragonaires, Slim Smith, along with the duo Higgs & Wilson, who scored the massive 1959 ska hit Manny Oh.
After becoming a Member of Parliament, Edward Seaga sold the company to Byron Lee, who renamed it Dynamic Sounds Recording, a popular studio visited by artists such as Paul Simon and Eric Clapton.