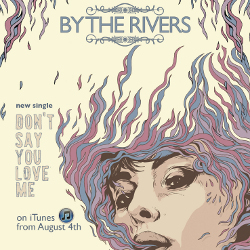 Earlier this year I got to have a brief chat with By The Rivers, the young and talented 6 piece original reggae band from Leicester in the UK. During our meeting they told how they hoped to be releasing an album by the end of this year, well work on finishing off this album is still on going but in the meantime they are about to release their second single, a 3 track E.P 'Don't Say You Love Me', as a taster and prelude to its launch.
The lyrics to the song started life as a text from a girl stating she loved the founder and drummer Jordan Birtles, after he proclaimed "don't say you love me" and are set against a bright, ska infused rhythm. The single's B-Side finds the band in deeper, dubbier waters as the Fun Lovin' Criminals Dub Side Project Radio Riddler produces a haunting remix of Vulture, with the final number being an acoustic version of the previous single One Word which rode high in the iTunes Reggae single charts, towards the end of last year.
The CD single is available now from Kompyla Records and download at bytherivers.bandcamp.com.