Dancehall superstar Vybz Kartel – incarcerated since last year on murder charges and multiple other criminal offenses – is one of the most controversial artists ever to come out of Jamaica, and now he tells his story in the book 'The Voice of the Jamaican Ghetto -Incarcerated but not Silenced'.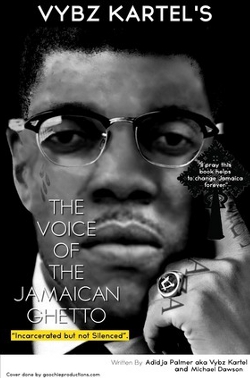 The book is marketed with the slogan "The book that the politicians, the system and big corporations do not want you to read" and Vybz Kartel is said to expose political secrets, other issues that are so taboo that they have been swept under the rug and downright lies told by politicians.
"As strange as it may sound, I hope you do not enjoy this book, I hope it disturbs you. I hope after reading you realize there is something wrong with Jamaica that needs to be fixed," states Vybz Kartel in a press release, and continues:
"I hope you will never look at a ghetto person the same again. I hope you will never see a young girl in a compromising position with an older man and not question what is going on. I hope you will never see a young man in jail and write him off as wutless or bad," he states, and concludes:
"Most importantly, I hope that you will not only hear but listen to the voice of the ghetto. I end in the words of Marcus Garvey – one God, one aim, one destiny, one love."
On the book's website Vybz Kartel and his co-author Michael Dawson state that they "anticipate consequences from the powers that be for daring to write this book and exposing all to the masses".
'The Voice of the Jamaican Ghetto – Incarcerated but not Silenced' is available in selected stores and via an online store.