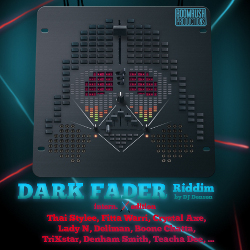 German label Boomrush Productions recently put out the Dark Fader riddim, an energetic and party oriented dancehall scorcher produced by DJ Densen and Felix Rühling.
This is the third riddim on Boomrush and it features 18 cuts plus six acoustic versions on the international edition. The German edition adds another five tracks.
The compilation has an international lineup, collection artists from Russia to Jamaica, including Lady N, Teacha Dee, Fitta Warri and Boone Chatta.
The Dark Fader riddim is now available as digital download.