Successful reissue label Bristol Archive Records' sister label Reggae Archive Records is set to release some long lost music from Birmingham band Eclipse.
Eclipse were friends and contemporaries of fellow Handsworth band Steel Pulse, but they never achieved the same level of commercial success. Back in the seventies the two bands vied with each other to be claimed as Handsworth's best.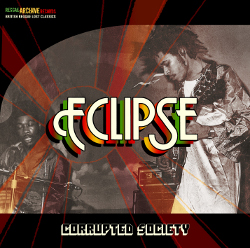 Eclipse were together for ten years, from 1975 until 1985. In that time they managed to release just one album and three 7" singles.
The bulk of the album 'Corrupted Society' features Eclipse's eight track album release, known as Eclipsed. The album includes these tracks plus both sides of the their final single and a brace of previously unreleased tracks.
The release has been in full cooperation of the original band members. They have provided their recollections of the band's history for the sleeve notes as well as supplying precious archive photographs.
Corrupted Society was released on CD and digital download on October 15.