Bristolian Dubkasm, with frontman and radio personality DJ Stryda, have built themselves a strong reputation and a worldwide following with their meditative and heavy slices of digi dub and UK roots.
Their label Sufferah's Choice was launched in 2003, but even before that first Sufferah's Choice release, Dubkasm had nearly a decade's worth of recordings behind them. But these early recordings were mainly preserved for leading UK sound systems such as Aba Shanti and Jah Shaka and could only be heard played off dub plates at dances such as at Brixton Rec. Until now.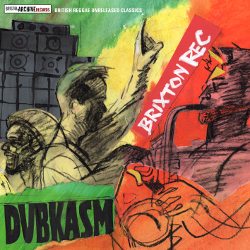 Dubkasm have decided that the time is right to share the story of those early years and make a selection of those formerly exclusive tracks available for everyone to enjoy.
'Brixton Rec' comes as eight track vinyl or eleven track CD or digital download. Included are four vocals by Tena Stelin, the late Lidj Xylon and Dubkasm regular Ras Addis, and each of the vocal cuts are accompanied by its dub counterpart mixed by Aba Shanti.
The CD and download version contain three bonus tracks – a melodica version and two live cuts, of which one Aba Shanti both mixes and sings.
It's the Aba Shanti connection that inspired the album's title and the set is a tribute to the sessions at Brixton Rec.
The album will be released on October 8 and comes with sleeve notes, telling the story of Dubkasm's early years including rare archive photos.