Jamaican roots reggae artist Prezident Brown returns with the release of his new album, 'I Sound Is From Creation', available on November 13 on CD and digital download.
Born Fitz Cotterell in Clarendon, Jamaica, Prezident Brown embarked on his musical journey in the 1980's, and has over the years transcended international borders to bring his brand of socially-conscious messages, packaged through sweet reggae music, to a global audience.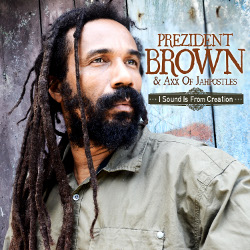 On his ninth full-length release he continues his mission to educate and entertain through its 14 tracks laced over mostly one drop reggae riddims.
"I came up with the album name I Sound Is From Creation because some of the songs were made from chanting the melody and lyrics. The musicians created music for the chant and together we made a record," reveals Prezident Brown in a press release.
The album is recorded and produced together with Axx Of Jahpostles, and according to Prezident Brown the collaboration created a fruitful and comfortable working situation.
"It is always a pleasure to work with Devon Bradshaw and Ian Coleman. We work very well as a team and they are involved in a lot of my projects that are already out," continues Prezident Brown.
On the first single, Be Careful (Rags To Riches), Prezident Brown implores listeners to not get attached to material things or lose themselves, as they rise from "rags" to "riches." The second single, Teach The Youths Dem (Meditation), address the destruction of the culture and encourages youths to be strong in the face of adversity.
"Overall I have grand feeling about the album as the collection of tunes represents me well," discloses Prezident Brown, and continues:
"I believe real progress is gradual and not overnight, so one should practice and maintain one's position. This project took two years, on and off, to conceive and come together."
The album will be released and distributed via Tad's Record, and the company's President has high hopes on 'I Sounds Is From Creation'.
"Prezident Brown is one of those silent but deadly gems of reggae music," states Tad Dawkins, President of Tad's Record, in a press release, and continues:
"His songs are both entertaining as well as powerful in message. There was no contemplating when the opportunity arose for Tad's Record to put out an album for Prezident Brown and Axx Of Jahpostles. Tad's Record deals with quality music and I Sound is from Creation is a solid and high quality album."