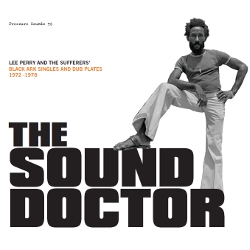 UK reissue label Pressure Sounds has announced their second Lee Perry reissue this year. 'The Sound Doctor' is a 24 track set and follows 'High Plains Drifter' put out in mid February, and documents Lee Perry's recordings of the dreads, rastas and sufferers in 70's Kingston.
The album collects remastered and previously unavailable Lee Perry productions of artists such as Junior Byles, U-Roy, Dillinger and The Ethiopians as well as more obscure performers, including Brother Roy and Jah T.
The tracks were recorded in three different Kingston Studios – Dynamic, Randy's and Lee Perry's own Black Ark – with some of the finest musicians, and amongst them were Sly & Robbie, Augustus Pablo, Winston Wright, Earl "Chinna" Smith, Bobby Ellis and Theophilius Beckford.
'The Sound Doctor' hits the streets as CD, double LP and digital download on November 5.