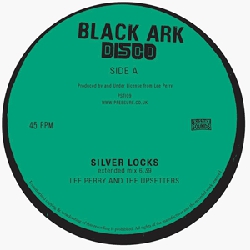 Apart from putting out thenew Lee Perry collection 'Sound Doctor', UK reissue label Pressure Sounds also released a three track disco 12" on November 5. The three tracks were recorded at his Black Ark studio and none of them are on the Sound Doctor album.
The A side is an extended mix of Junior Byles' Curly Locks titled Silver Locks and is remixed and re-voiced by Lee Perry himself.
The AA side collects two tracks taken from a super rare dub plate – Jah Jah Words by Righteous Flame followed by its dub version.
The 12" comes in a handmade sleeve stamped by with Upsetters record shop logo.