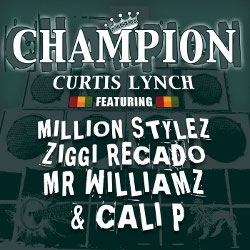 Curtis Lynch – UK-based producer and owner of Necessary Mayhem Records – has just cooked up an historical tune using vocalists from four different European countries.
Million Stylez from Sweden, Ziggi Recado from the Netherlands, Cali P from Switzerland and Mr. Williamz from the UK all share microphone duties on the bass banging Champion recorded over a remix of Report to Me by the late Gregory Isaacs.
The theme for the track is that no one can challenge their sound, and you can judge for yourself when the tune drops on October 8.