On October 15 reunited Bristol-based roots reggae veterans Black Roots released a 12" off 'On the Ground', their first album in more than 20 years.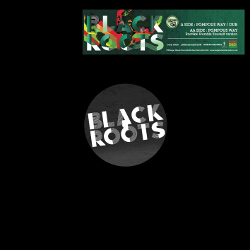 'Pompous Way' is a double A 12" and features an exclusive extended mix of the album version of the track, clocking in at nearly seven minutes the vocal is seamlessly followed by the dub in classic discomix fashion.
The AA side belongs to Rootikal Productions – David Hill and Ashley Beedle. Both are long-time reggae lovers and were given free reign on the mix and their Rootikal Humble Yourself Version takes the track in a new direction, shifting the emphasis onto the rhythm, the drum, the bass, the guitar, the horns and adding just a little melodica.
In addition to the 12", there is also a digital download available which adds a further two exclusive mixes from Oldwah, who has been making his own reggae mixes for years and has built a following on YouTube.