A bit like London buses, you wait ages for one then two turn up close together, as Roots Hitek have just released their second double A sided 12" release in as many months.
The first cut of the A side features Lioness Fonts with a song titled 'Calling Me Home', which will also be the title track of her forthcoming Album on the ROOTS HITEK label. A prolific songwriter Fonts has had numerous releases on labels across Europe and beyond and has recently being working with various producers like Peckings, Jah Youth (Roots Ambassador) and others so I'm sure we will be seeing and hearing a lot more from her in the near future.
Next up is Prince Liv-I-Jah of the Roots Ambassador Sound System with 'Don't Watch Da Clothes'. This version also features lovely sax phrases by I Jah Saloman. A dub version by Roots Hitek in a rockers style completes the riddim.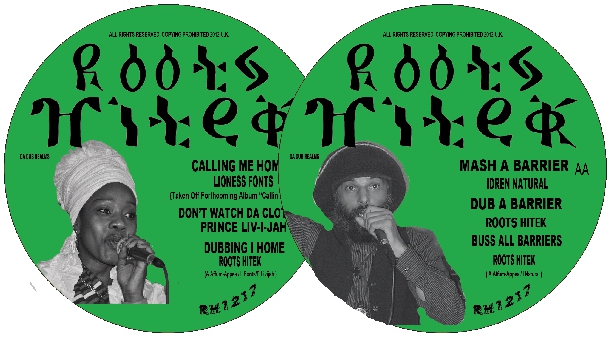 As we flip to the AA Side we find Idren Natural with the track 'Mash A Barrier'. This is the follow up to digital download favourite 'Roots Reggae Journey', which apparently is a big tune with the Mexico dub masses. This is the only vocal version on the riddim with a dub ('Dub A Barrier') and an instrumental 'Buss All Barriers' featuring Jacek on bass guitar, Digistep on saxophone and flute and Kheru Jahman Dan on Kette drums, with all other instruments and the mix performed by Roots Hitek.