UK label Scoops, run by the Vibronics crew, is set to put out three limited edition 10" with rough bass lines and profound dub mixes in November.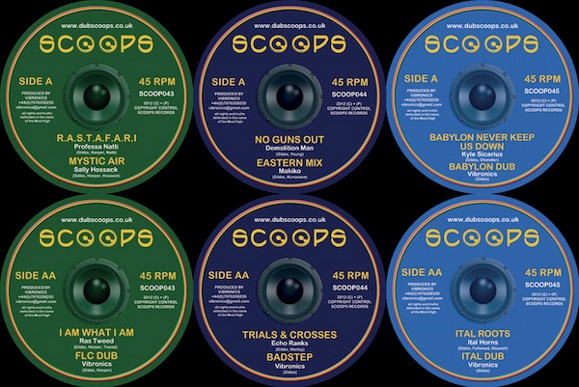 Kyle Sicarius and Zion Train's horn section Ital Horns teams up on a weighty riddim that takes its inspiration from classic 1970's roots music. Vibronics have treated the riddim with an arsenal of vintage effects on the dub mixes.
Junglist MC Demolition Man makes a rare vinyl appearance and shares wax with Tokyo's melodica maestro Makiko and Echo Ranks. Vibronics is credited for causing a dubwise storm.
Legendary Jah Tubbys MC Professa Natti shows up and shares an A side with Sally Hossack, who delivers a mystical flute piece. The B side is owned by Kruder & Dorfmeister's live MC Ras Tweed and Vibronics. The riddim was originally made in collaboration with NYC's Fun Lovin' Criminals.