As 2012 draws to a close it is time to look forward to 2013 and what next year has in store and as usual the HELP Jamaica! has just launched its calendar to help you make a note of all those important dates.
During the last three years the non profit organization HELP Jamaica! has released a limited edition calendar which has gained fans from all over the world and turned into something of a collectors-item.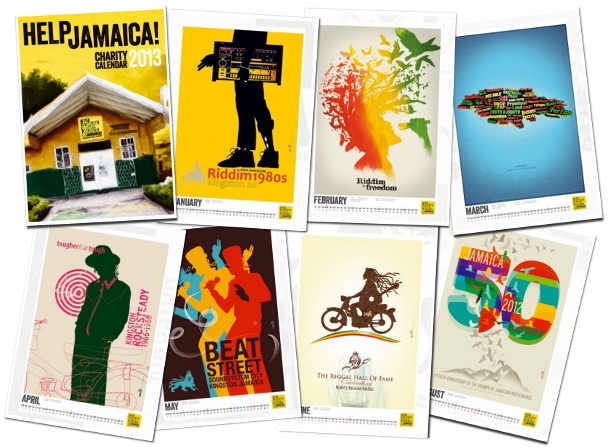 Next years should prove no different, but unlike previous years that have featured glorious photos of the Jamaican country side and everyday life 2013's will have a new look as it will be made up with six exceptional poster artworks by Jamaican graphic designer Michael Thompson a.k.a. Freestylee and six more by the winners of the 2012 International Reggae Poster Contest that give the calender a real reggae appeal as many of the posters depict either reggae genres, eras and heroes.
As usual the calener is printed on high quality DIN A3 paper with 100% of all sales revenues of the calendar being used to finance the running costs and expenses, salaries, material and utility bills of the HELP Jamaica! Education Center in Cassava Piece, Kingston 8.
This Calender has always sold out in the past so if you want one you better be quick and follow one of these Web-links for online release:
Direct link to webshop: www.helpjamaica.org/support/shop/charity-calendar-2013/
Or for more information on the calender or the project in general visit: www.helpjamaica.org and www.facebook.com/helpjamaica.