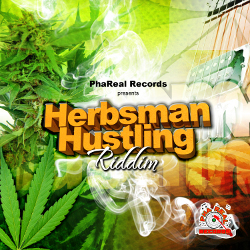 Jamaican label PhaReal Records have just released an updated version of the classic Sugar Minott song Herbsman Hustling, originally recorded in the early 80's. The production on this new version is handled by Kos Dillon and Orlando Sinclair alongside renowned veteran Roy "BlackBeard" Sinclair.
This bass-fueled riddim is voiced by 18 artists and features veterans in the likes of Trinity, Clancy Eccles, Dillinger and Junior Tamlin as well as newer generation reggae crooners such as Thrilla U, Tréson and Tenor Star.
Herbsman Hustling is now available on digital platforms worldwide.