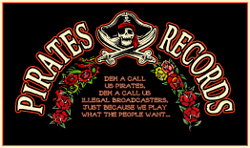 French mash-up masters Bost & Bim are back with a new batch of clever reinterpretations of classic tracks. This time Jimi Hendrix' Crosstown Traffic and Adele's Rollin' in the Deep have received a ska treatment, while Gimme Shelter by The Rolling Stones is fused with a version of The Gatherers apocalyptic Words of My Mouth.
Last but not least is a turn-down-your-lights-low version of Gotye & Kimbra's Somebody That I Used to Know.
These tunes are now available on two separate 7".