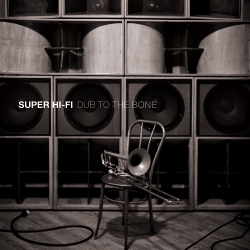 NYC-based band Super Hi-Fi, lead by songwriter/producer/bassist Ezra Gale, is want to change the perception of the trombone through their debut album 'Dub To The Bone', a set that uses not one but two trombones to create sonic tapestries drenched in the warmth of analog tape.
"Trombones are like violas. They've always been under-appreciated instruments and even the butt of a lot of band jokes. But when you blend the tones of two trombones with the space of dub you get a deep, full sound that is both soothing and striking," says Ezra Gale in a press release.
'Dub To The Bone' mixes original tracks with remixes by Beverly Road All-Stars, DJ Trainwreck, Subatomic Sound System and Victor Rice and was recorded onto analog tape by noted dub engineer Prince Polo and dub sound shines through with the use of vintage tape delays like the Echoplex reflecting the nature of dub.
"Dub music is all about re-forming original recordings into something different," says Gale, and adds:
"So the remixes here have their own identity and can stand on their own."
When recording Ezra Gale is influenced by what is happening around him and New York City's swirling environment has soaked into his songwriting.
"Sometimes I'll record an idea and just ride the subway listening to it as a soundtrack. Things bump and bleed into each other more here and you can see and feel it in the art and the music," he explains.
'Dub To The Bone' was released on LP and digital download on December 4.