Soul Jazz Records continues to dig deeper and deeper into the vaults of the mighty Studio One, one of the most important labels in the history of reggae music.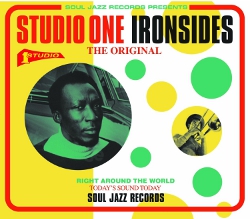 This new installment is titled 'Studio One Ironsides' and drops on January 22, 2013. It features several classic Studio One cuts alongside a heavy dose of rarities and spans many genres – everything from classic ska and rocksteady to roots, dub and dancehall-oriented roots.
The album includes a line‐up of some ofthe finest reggae artists – The Skatalites, Freddie McGregor, Alton Ellis, The Gladiators, Johnny Osbourne, Cornell Campbell, Dennis Alcapone, Prince Jazzbo, Lone Ranger – all of whom made their names at Studio One.
The title refers back to a time in the 1960s and 1970s when Clement Dodd – founder of the label – was at the height of his powers, releasing so much music that Studio One had to invent new label names to trick radio DJs, wary of playing too much music from the studio, into playing records. These creatively titled new label names included Ironsides, Money Disc, ND Records, BongoMan, Forward and more.
The large accompanying booklet contains extensive text from reggae historian Noel Hawks, information on each track and label scans.
'Studio One Ironsides' collects 18 tracks and is released in a CD‐jewel case with 24‐page booklet with card slipcase, as well as a heavyweight double‐vinyl edition in deluxe strong gatefold sleeve (with full sleeve notes) and also as a digital download.