Jamaican-based production house Jus Eazy Productions has just released their latest riddim album – Absinthe. It boasts twelve party-drenched dancehall tracks, including the riddim's instrumental.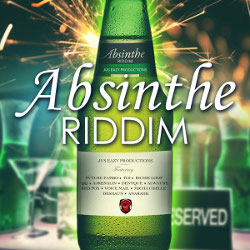 The initial single is from Jamaican songbird Denyque, a sexy offering titled One More Night. The second single, Alcoholic, is another certified party anthem from Future Fambo. Acclaimed dancehall artists Voicemail, Red Fox, QQ, Toi, Richie Loop and others take turns giving shots of the Absinthe album.
"The creative process was amazing," says producer Marlon Easy in a press release, and continues:
"I got a chance to work with some really talented writers. I didn't get to work with all the artists I had in mind but the ones that I did work with, delivered. It took me almost a year to complete eleven songs but I'm satisfied with the finished product."
Jus Eazy Productions has been producing and releasing music globally for the past seven years, fusing multiple genres including reggae, dancehall and pop. The company was formed by brothers Ian Easy and Marlon Easy, hence the label name Jus Eazy. They have produced tracks for some of the biggest names in reggae and dancehall music, including Busy Signal, Christopher Martin, Anthony B, Red Fox, Voicemail and most recently, Ky-mani Marley.
The Absinthe riddim is now available worldwide from all major digital retailers.