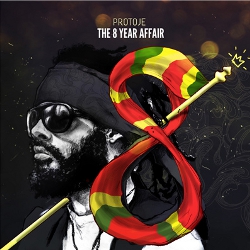 On February 12 Jamaican singjay Protoje follows up on his highly praised debut album '7 Year Itch', released two years ago.
His new album is titled 'The 8 Year Affair' and collects 14 tracks, of which his producing cousin Don Corleon is responsible for thirteen. One song – This is Not A Marijuana Song – is produced by Niko Browne.
Included are the previously released singles Kingston Be Wise, the aforementioned This Is Not A Marijuana Song, Around the World, a combination with Chris Watts and the Romain Virgo duet Reggae Revival.