Last year ex-Gladiator Clinton Fearon put out his acclaimed acoustic album 'Heart and Soul', a set which made it into United Reggae's top 20 list of the best albums in 2012.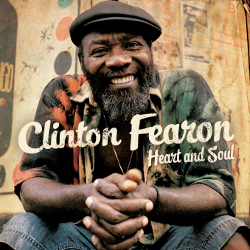 On album the album he gives some of his work with The Gladiators in the 60's, 70's and 80's a new twist. This new edition also collects two bonus tracks and was released on January 21st on digital platforms and on February 11th on CD.
On 'Heart and Soul' you won't hear any drum machines, samplers or synthesizers. Instead, Clinton Fearon focuses on rhythm, bass and pluck guitar countered by congas and a variety of percussion highlights that tickle ones senses.
Included in the set are classic tracks such as Let Jah Be Praised, Richman Poorman, Chatty Chatty Mouth and Tribulation, the latter you can download for free by clicking here.
To promote and highlight this release Clinton Fearon will play two acoustic concerts – one on January 25th at Old Fruit Market, Celtic Connection Festival, Glasgow, and one at Rich Mix, Shoreditch, London, on January 27th, with Reggae Roast DJs.