After three successful singles – Worldwide Rebellion, Jamaica 50 and the massive Capital Offence – over the last year or so, veteran Jamaican deejay Captain Sinbad is back with his first album in 30 years.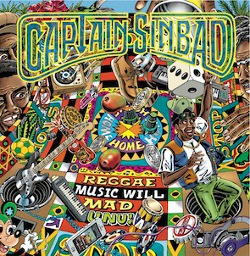 'Reggae Music Will Mad Unu!' is the title of his new album and is, just like the above mentioned singles, produced by Frenchie for his Maximum Sound imprint. It contains eleven tracks, of which six are vocal cuts and five are dub versions, recorded in Kingston over a selection of fresh vintage sounding riddims.
This album heralds the return of a legendary pioneer from the early days of dancehall, when artists like Yellowman and Barrington Levy dominated reggae charts in the UK and the Caribbean. And just like them Captain Sinbad made his name on local sound-systems before transferring his talents to the studio with ace producer Henry "Junjo" Lawes and mixing engineer Scientist at the control tower.
He retired from the limelight in the 80's, but remained a pivotal figure behind the scenes, for example producing John McLean's lovers rock hit If I Gave My Heart To You and collaborating with Frenchie on the World Jam album for Greensleeves.
'Reggae Music Will Mad Unu!' hits the streets on February 25 as LP and on digital platforms.