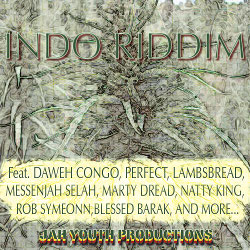 In 2011 Swedish producer and musician Jonahgold teamed up with Hawaii-based Jah Youth Productions to release one song by Daweh Congo and one from Desmond Foster. Those particular tunes were based on the Indo riddim, a riddim that now will be released with a host of new vocal cuts.
This upbeat and easy-skanking one drop, complete with a smoky harmonica, was recorded in Stockholm, Sweden, and is voiced by veterans and upcoming talents alike – Perfect Giddimani, Natty King, Rob Symeonn and Winstrong are just four of the total of 18 artists that take turn on the riddim.
The Indo riddim hits the digital platforms on February 5.