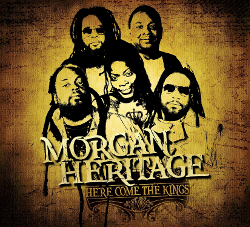 Following their return to New York City and the Caribbean Fever mega-show, Morgan Heritage is now gearing up to release their first studio album since 2008.
The self-appointed Royal Family of Reggae unleashes 'Here Come The Kings' in June with its bouncy lead single Perfect Love Song. The album features the group's signature powerhouse vocals over slick riddims from acclaimed producers such as Shane C. Brown and multiple Grammy Award nominee Jason "J-Vibe" Farmer.
While the album is heavy on lovers content, like the pulsing Love Stoned, featuring Busy Signal, 'Here Come The Kings' also includes the message music, including Stand Up, Man Has Forgotten and Dem Ah Run Come.