Plans have just been announced for Ireland's annual ska festival. The three-day international Ska Festival is slated to kick off on Friday, March 29th next in the picturesque sunny south-east seaside village of Tramore in Co. Waterford. Renowned for its beautiful 5 km. beach, amusement park and fairground, the town is eagerly awaiting the arrival of hordes of ska addicts and surfers to its shores over the Easter weekend.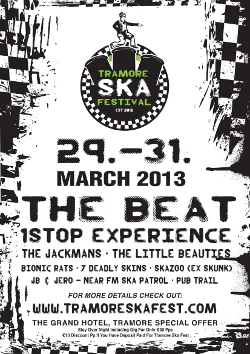 Starting on the Friday night, 2-Tone legends The Beat – led by Ranking Roger – will light the fuse with their catalogue of hit tunes: 'Mirror in the Bathroom', 'Too Nice To Talk To', 'Can't Get Used To Losing You', 'Hands off She's Mine' and 'All Out To Get You'. The band's formidable reputation precedes them and their dynamic live show ensures that the 'massive' will be out in force to show their support.
Thereafter the festival is dominated by a host of indigenous talent, with the impressive 7-piece SKAZOO supporting the aforementioned 'Beat' on the festival's opening night. The Bionic Rats lead the Saturday night charge - as they continue to promote their new and well received album 'Should Be Seen And Not Heard' – with the lively Jackmans in support. The Saturday night-Sunday morning slot is taken by the longstanding 7 Deadly Skins, who will strut their wares with a lively combo of ska and reggae sounds, serving to emphasise their well deserved 'deadly by name, deadly by nature' reputation. Those surviving until the festival's closing night will be treated to the best of 1-Stop Experience a melange of international musical legends, playing up tempo ska\reggae, criss-crossed with pop, latin and blues influences. Their arrival is eagerly anticipated, as is that of the experienced and multi-talented 9 piece Little Beauties. Another welcome feature of this festival is the hosting of a wide range of ska-related musical events across a multitude of the town's hostelries.
There can be no doubt that the festival's select sounds and scenic setting will serve to ensure a successful 'ska' holiday weekend. For sure, the surfers' seawaves and the soundscapes' airwaves will bop in harmony at this eagerly anticipated 'SkaFest'.
Details at http://www.tramoreskafest.com.