New from the Springline / Come Fi Conquer stable is the latest album release from the Yabass Yaba Radics titled 'Community Rocker'.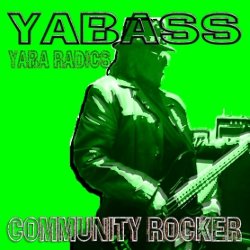 Yabass, something of a father figure on the UK underground reggae scene, was around when punk and reggae stood side by side as the voice of the oppressed and disillusioned. It was also a time when if something big was to happened on your street like if a gang of youths had been arrested under archaic S.U.S laws or been attacked by an over zealous S.P.G you knew that both a punk band and a reggae band would be singing about it by the end of the week. Music seemed to be more alive, spontaneous and done simply with a very D.I.Y, approach where you could get your music out there and heard in a very short space of time.
Today you have the internet culture where things can be done in hours and it is with that punk D.I.Y ethos in mind that these 8 hard hitting reggae and dub cuts have been assembled from raw mix tapes of Yabass at his uncompromising best. They have been laid down with no fussy production or over dubs they are just raw and unpolished as nature intended from the streets of Willesden, London.
There is a guest appearance from Michael Rose of Black Uhuru on 'Playing Good Vibes' with Yabass's distinct nasal tones covering the rest. The album is available now to download from Amazon and on CD at kunaki.com and other good outlets