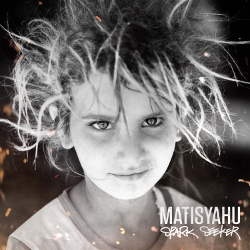 U.S. pop reggae singer Matisyahu has teamed up with reggae powerhouse VP Records for his fourth studio album 'Spark Seeker'. This 13 track set is produced by Kool Kojak – known for working with Nicki Minaj and Ke$ha – and is due for release on March 11th as double CD digipack including a bonus CD of acoustic sessions.
Since first emerging on the international scene in 2005, Matisyahu has sold more than two million copies of a diverse set of albums – from the stripped-down roots reggae of 'Live at Stubb's' to the trippy ministrations of the Grammy nominated 'Youth' to the polished pop eclecticism of 'Light'.
On 'Spark Seeker' Matisyahu is said to explore uncharted territory with help from an expansive cast of collaborators from around the globe. The album mixes ancient traditional sounds with futuristic electro beats and rapping with singing.
"This is definitely pushing the boundaries of what I've done before", says Matisyahu in a press release, and adds:
"It's a new kind of record for me".
The first single Sunshine is already released.