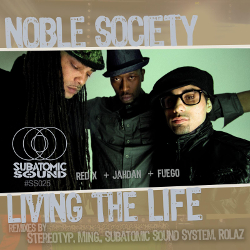 New York City's acclaimed hip-hop reggae crew Noble Society, fronted by international heavyweight Jahdan Blakkamoore alongside Fuego and Red X, teams up with dub and bass specialists Subatomic Sound to twist up their "Living the Life", taken from their album "P.P.M", into a fistful of styles designed to demolish dance floors worldwide.
Subatomic Sound has invited an international crew of producers including Stereotyp, Ming and Fuego alongside themselves for a bass fueled ride through rootical dub, next wave dubstep, digital hip-hop, gypsy dancehall and tropical trap.
"Living the Life" is available on digital platforms.