Californian The Lions was formed in 2007 and draws together a dozen or so of Los Angeles' elite reggae and soul creators. Now – six years after the formation – it's time for the debut album 'This Generation'.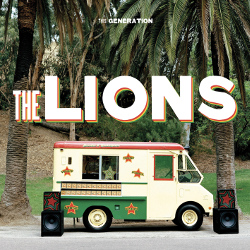 They're inspired by reggae, sound system culture and the myriad of musical styles influenced by Jamaican music old and new, firmly placed in soul music.
"All the guys in The Lions grew up on classic Jamaican records. Since we began, we have wanted to give our records that same edge and roughness that we grew up hearing on LPs by The Upsetters, Soul Syndicate, The Rockers Band and Roots Radics," says Dan Ubick, guitarist and producer in a press release, and continues:
"The rhythm section was all recorded to tape, the Hammond buzzed a little, fuses blew and good mistakes were left in. We basically made the dusty reggae soul LP we have been wanting to hear for years."
The line-up includes members of the legendary ska band Hepcat, forming half of the vocal team together with the sweet falsetto of Malik Moore and DJ stylings of Black Shakespeare, cousin of bass magician Robbie Shakespeare. Other members include Dan Ubick and Macy Gray co-writer and collaborator Dave Wilder on bass, plus musicians who have played with the likes of De La Soul, Barrington Levy, Beck, Raphael Saadiq and Black Eyed Peas.
'This Generation' includes originals as well as cover versions and a guest appearance by legendary vocalist and bass player Leroy Sibbles.
The album hits the streets as CD, 7" box set and digital download on 11 March. It will be out on Stones Throw Records, home to several releases by acclaimed retro soul singer Aloe Blacc.