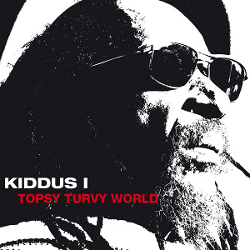 In 1978 Jamaican jazzy-voiced singer Kiddus I played a small part in the cult reggae motion picture 'Rockers'. He played a key scene when he voiced Graduation In Zion in front of the cameras.
The film was a springboard to the international market for artists such as Burning Spear, Inner Circle and Gregory Isaacs. But not for Kiddus I since the master tapes of his recordings from 1978 got lost and today he labels himself as "the most recorded but never released artist". And not much was heard from him until only a few years ago when he joined Earl "Chinna" Smith's Inna De Yard All Stars. Around the same time a number of reissues of his 70's material also started to surface.
On 15 February he drops his brand new album 'Topsy Turvy World'. It has taken two years to materialize and was recorded live together with some of Germany's and Jamaican's most prominent reggae musicians, including Aston "Family Man" Barrett and Tyrone Downie, two of the original Wailers, along with Earl "Chinna" Smith and Uziah "Sticky" Thompson.
'Topsy Turvy World' boasts 13 tracks, of which twelve are original compositions. It's released on LP, CD and digital platforms. The first single Wild Child is already out.