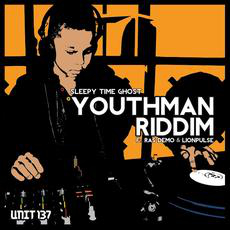 Unit 137 is a collective of producers, instrumentalists, vocalists, engineers and selectors, along with a Sound-System, Studio and Record Label based in Lewisham South East London, that have been drawn together, as they say in their own words, because of "a shared passion for conscious and forward thinking bass music"
Part of this collective is Sleepy Time Ghost, who has appeared on remix duty for each of Unit 137s releases so far but is now presenting his own full-length release "Youthman Riddim".
Vocalists featured on this solid modern roots riddim are the notorious Ras Demo [A.K.A Demolition Man] and Lionpulse, an up and coming sound-system from Bristol, with a dub version played out by the Mad Professor's son Joe Ariwa. The release also contains a driving Steppas remix, bringing a new energy to Lionpulse's vocal version.
Sleepy Time Ghost – Youthman Riddim is available now on heavyweight 12" vinyl and digital.