Hot behind their crucial repress of Freddie McKay's 'Tribal Inna Yard' LP France's Iroko Records have announced a 12" taster for another intriguing album release.
This time it is not a reissue but a new collaboration between Northern Spain's retro roots master Roberto Sanchez and Greenwich Farm reggae scene veteran Milton Henry.
All three tracks were voiced by Henry at the legendary Bullwackies studio in Brooklyn for Lloyd Bullwackie Barns, over rhythms laid by Sanchez' Lone Ark Riddim Force in Santander.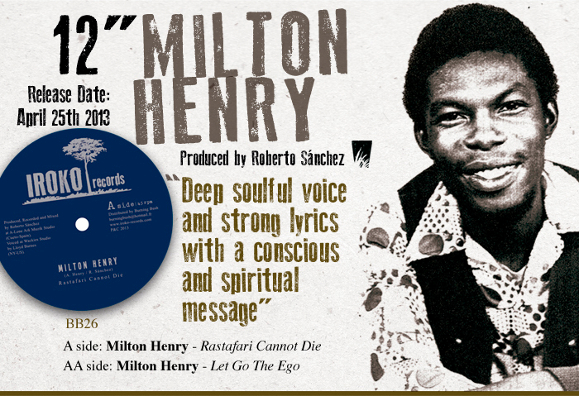 Rastafari Cannot Die (Extended Version) is a tough late 70s/early 80s era meditation chant and showcase dub with a sliding bassline reminiscent of Dennis Brown's Praise Without Raise. Let Go The Ego comes as a separate vocal and percussion heavy dub version in more of a mid-70s Wackies style.
According to Iroko Records "This 12 inch will announce forthcoming Milton Henry's showcase album planned for September 2013." Fans of Sanchez' 2010 project with Earl Zero 'And God Said To Man', could be in for a follow-up of sorts.
Rastafari Cannot Die/Let Go The Ego is out on April 25th..