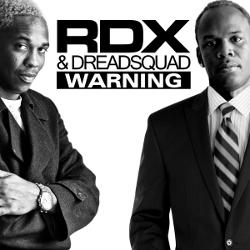 Jamaican childhood friends Delomar X and Renigade are known under their artist name RDX, a party flavored duo that has released at least five hit songs over their six years.
Now they've joined forces with Polish production team Dreadsquad for the eight track album 'Warning'. It contains an intoxicating fusion of digital reggae, contemporary dancehall and energetic ska and each of the four vocal tracks are complemented by its instrumental counterpart.
'Warning' is now available on digital platforms worldwide.