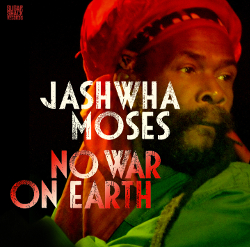 For UK-singer Jashwha Moses it took more than 35 years from releasing his first single to his debut album, last year's career spanning 'Joshua To Jashwha – 30 Years In the Wilderness'. Now he's back. And this time with an album full of brand new material.
'No War On Earth' holds 15 rootsy reggae tracks, nine vocals and six dubs. It's produced by Jashwha Moses' long term collaborator Mikey Taylor-Hall and includes revitalized versions of both Jah Time Has Come and Steel.
'No War On Earth' is preceded by the five track 12". The full album was released on 8 April on CD and digital platforms by Sugar Shack Records.