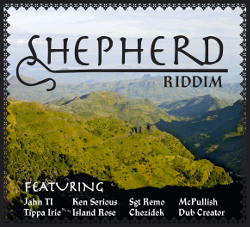 U.S.-based dub and reggae producer McPullish is back a new riddim, said to have taken years to finish. It's titled Shepherd and collects ten tracks, of which six vocal cuts, two dub versions, one instrumental and one remix courtesy of Dub Creator.
Artists lined-up are a cocktail of singers and singjays, both known and unknown, for example Jahn T I, Tippa Irie, Chezidek and Ken Serious among.
The Shepherd riddim is now available on CD and digital platforms.