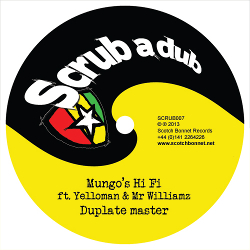 Mungo's Hi Fi latest 12" single is a joint collaboration with Mr Williamz, who has been in high demand since appearing on Mungo's last album 'Forward Ever' with his Musically Mad and Computer Age hits and dancehall veteran Yellowman.
The flip side features a karnival style dancefloor instrumental of the bass busting riddim along with a half time swing version that gives it a totally different groove.
The release is available on both 12" Vinyl and Digital Formats from Scotch Bonnet Records.