Jamaican pioneering deejay Trinity, aka Junior Brammer, met French production crew Irie Ites back in 2007 and the relationship has over the years resulted in a few singles. Now they have a brand new album cooking.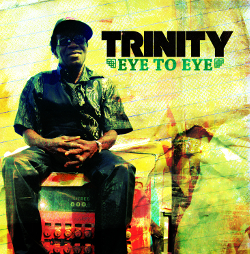 'Eye to Eye' was recorded in Jamaica and France and collects 14 combination tracks where Trinity steps up against giants such as Barrington Levy, Cornell Campbell, Beres Hammond, Gregory Isaacs, John Holt and Dennis Brown. The riddims were crafted by powerful riddim sections such as Sly & Robbie, Mafia & Fluxy and Steely & Clevie.
Trinity is considered as one of the best deejays from the 70's and recorded alongside contemporaries such as Big Youth and Dillinger. He's probably best known for his 'Three Piece Suit' recorded for Joe Gibbs and released in 1977. The riddim was also used for another set of hits, including Alton Ellis' I'm Still in Love and Althea & Donna's crossover smash Uptown Top Ranking.
'Eye to Eye' drops on CD on 27 May and on digital platforms on 1 June.