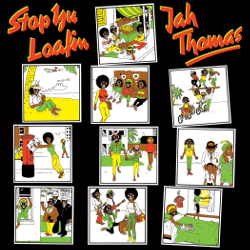 Jah Thomas' 1978 classic deejay set 'Stop Yu Loafin' will soon be reissued in the Greensleeves Reggae Classic series.
This ten track set – produced by Joseph Hookim at the legendary Channel One studio – is one of the original album releases that launched the Greensleeves label. 'Stop Yu Loafin' captures Jah Thomas microphone attacks at the height of his powers over a set of crucial Revolutionaries riddims, including Full Up, Death In The Arena and Answer.
'Stop Yu Loafin' was the first release to feature the iconic artwork of Greensleeves' longtime cover illustrator Tony McDermott and is set for release on CD and LP on May 20.