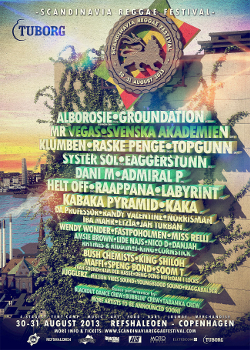 Scandinavia Reggae Festival is a new two-day reggae festival based in central Copenhagen, Denmark, only a ten minute walk from the world famous Christiania.
The festival will take place in a former industrial area, an area well-known in Denmark since it often hosts festivals and large concerts. Located by the sea, the area is a hybrid of concrete, trees and fields that will host three stages – a main stage, a big tent stage and a soundsystem stage.
Already confirmed acts include Alborosie, Groundation, Mr Vegas, Svenska Akademien, Klumben, Helt Off, Kabaka Pyramid, Da Professor, Randy Valentine, Bush Chemists, King Shiloh, Maffi, Soom T and Million Vibes.
Scandinavia Reggae Festival takes place on 30-31 August and tickets are on sale now.