After a strong 2012 for reggae albums there has been much expectation for 2013. But one well signposted project has slipped under the radar: the collaboration between Jamaican veteran Cornel Campbell and English Afro- jazz-reggae fusers Soothsayers.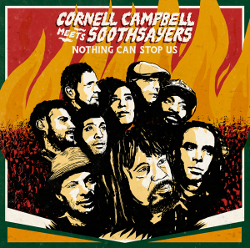 Soothsayers' last opus 'Human Nature' came out on their Red Earth Records imprint. 'Cornel Campbell Meets Soothsayers: Nothing Can Stop Us' will instead be the latest in eclectic dance label Strut's collaborative Inspiration Information series. Past episodes have paired Sly and Robbie with Amp Fiddler and Horace Andy with Ashley Beedle.
Soothsayers' trumpeter Robin Hopcraft and Campbell met in 2011 and booked session time at Bunny Lee's Kingston studio. The result, on Soothsayers' We're Not Leaving rhythm, was I'll Never Leave, released on an EP that August. The following summer Campbell and the group embarked on a well-received tour.
Soothsayers previewed tracks from the album on their soundcloud in February this year. Several feature rhythms familiar from 'Human Nature'.
"We gave Cornel recordings of some ideas we had been working on. He took them away and developed some lyrics" said Hopcraft in a press release. He and saxophonist Idris Rahman "Also wrote a few complete songs… and he blessed them with his vocals".
Campbell has been busy of late. He's recorded with Israel's Zvuloon Dub System and is about to unveil an album with the USA's Zion I Kings.
'Nothing Can Stop Us' is out July 8th on CD, double LP and digital download.