Just as United Reggae was getting ready to announce the arrival of Cornel Campbell's July album with Soothsayers – a second longplayer has been announced for release.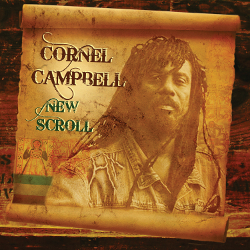 'New Scroll' is being issued by Zion High Productions and is produced by the USA's production triumvirate Zion I Kings – David Jah D Goldfine, Laurent Tippy I Alfred and Andrew Moon Bain.
"Boasting nine new songs penned by the 'Original Gorgon', as well as four extraordinary dub mixes, New Scroll is loaded with the musicality and poetic flow that brought Campbell early and unparalleled success in the 1960s and 70s" says the press release from Soul Of The Lion Music.
The celestial voiced Cornel Campbell has one of the longer continuous careers in Jamaican music, having started as a child in 1956.
You wait for a Cornell Campbell album and two come along at the same time. 'New Scroll' is out June 18th on CD and for digital download.