After releasing full-length albums with Lone Ranger, Carlton Livingston and The Silvertones, French multi-instrumentalist and producer Grant Phabao has now taken on Jamaican vocal trio The Jays' for the album 'Stepping Up In Time' – the first album in the group's long career.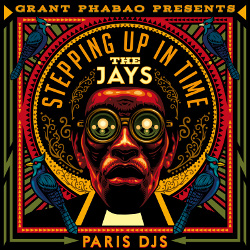 "All other albums were compilations of singles assembling releases spread over decades," says Grant Phabao in a press release.
'Stepping Up in Time' collects twelve new originals and a cover of The Paragons' mighty The Tide Is High, written by lead singer John Holt and covered successfully by U.S. pop band Blondie in the 80s.
Today The Jays comprises Lloyd Forrest, Errol Wilson and Leroy Hall and the members have previously recorded in several constellations. Errol Wilson and Lloyd Forest started in The Royals in the mid-60s. Lloyd Forest was also a member of The Chantels, while Errol Wilson was part of Blach Uhuru in the 70s, singing harmonies on 'Love Crisis' aka 'Black Sounds Of Freedom'. Leroy Hall joined in 2003.

In 2005 they met Grant Phabao. He had come to Jamaica to visit his friend and collaborator Lone Ranger, and he introduced Grant Phabao to some of his artist friends –The Jays, Purpleman, Danny Dread, Echo Minott and the late Ranking Trevor.
They started recording together in 2006 and several productions have been issued over the past seven years. This year two singles appeared – Stepping Up In Time and African Man – and then the full-length album, which is steeped Grant Phabao's hip funk and soul-flavored blend of roots reggae, jazz and pop.

"They really love to have their songs remade entirely, transformed into something else", concludes Grant Phabao.