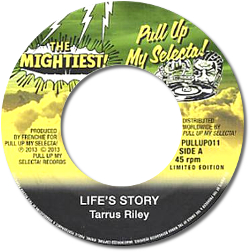 Highly respected producer Frenchie has via his Maximum Sound subsidiary Pull Up My Selecta! recently put out two new riddims, following the sound bwoy slaying riddim Tin Mackerel released in February, a riddim Konshens & Romain Virgo ride on their chart topping We No Worry Bout Them.
The new riddims The Mightiest and Number One Station are two very different riddims. The Mightiest is a pulsating one drop with sweet horns and an infectious synth hook, while Number One Station is vintage rocksteady courtesy of Bunny Lee.
Both riddims feature a number of crucial cuts from veterans and fresh talents, including Tarrus Riley, Fantan Mojah, Exco Levi, Randy Valentine, Shanty B and Ikaya.
The two riddims are now available on four 7" and will hit the digital platforms in late June.