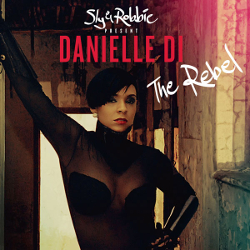 Reggae and dancehall blockbuster hit makers and power duo Sly & Robbie present Jamaican dancehall singjay Danielle DI in her debut studio effort, 'The Rebel'. Apart from Sly & Robbie she also collaborates with some of the top names in reggae and dancehall, including Cherine Anderson, dancehall giant Shabba Ranks and reggae royalty Gramps Morgan on a version of Marvin Gaye's timeless Sexual Healing.
"Putting out this album has a bit of excitement to it because it's a different kind of a showcase of dancehall from a female point of view," reveal Sly & Robbie and songwriter Orville "Rory" Baker in a press release, and continues:
"We are confident of the impact it will make based on the single Rebel, which we used to test the platform for a dancehall sound that is consistent with musical and vocal arrangements."
Danielle DI has been on the scene for some time, honing her skills and working on her craft with the likes of Beenie Man, Ce'Cile and Vybz Kartel. She has toured throughout the years, performing in the United States, UK and across the Caribbean.
"We are extremely honored to have been chosen to distribute Danielle DI's album, as she is a talented artist and really brings a welcoming change to the dancehall scene," states Tad Dawkins, President of Tad's Record, and adds:
"Added to this is the opportunity to continue our long-standing relationship with the rhythm twins Sly & Robbie and Rory Baker. Their work continues to breathe a refreshing and unique wind into the reggae industry - great production and great music, full stop!"
'The Rebel' collects eight tracks and is available worldwide now from all major digital retailers.