UK singer David Boomah bursted on to the jungle scene alongside Shy FX in 1995 with Who Run Tings, and has since worked and toured with the likes of Rebel MC, Benny Page, Tenor Fly and Top Cat.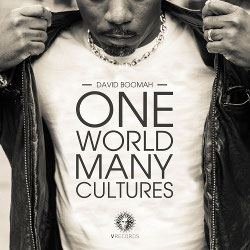 Almost 20 years have passed since his first hit song and now he's finally set to drop his debut album 'One World Many Cultures' on the jungle and drum and bass institution V Records, responsible for landmark releases from Roni Size, DJ Die and DJ Marky.
'One World Many Cultures' balances David Bommah's two favorite musical genres – reggae and drum and bass. It's a journey through a mix of reggae and drum and bass spiced with dubstep, dancehall, breaks and jungle.
It features a range of producers and collaborators from many different genres and David Boomah has vocally joined forces with Solo Banton, Harry Shotta, Serocee, Tenor Fly and YT. The beats are made by Serum, Rob & Robbie, Benny Page and few more.
Rodigan has already spinned it and now you can too. 'One World Many Cultures' is now available on CD and digital platforms.