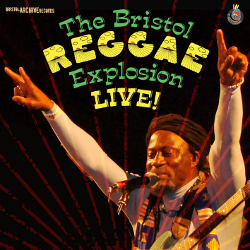 For the past three years Bristol Archive Records have shed light on Bristol's musical legacy, particularly reggae. And last year the label decided to turn the spotlight on the artists themselves and in August 2012 more than ten of the city's veterans shared the same stage, in some cases for the first time in two decades, for 'The Bristol Reggae Explosion Live'.
The show has been described as a success and the label has now put out the album and eleven track DVD 'The Bristol Reggae Explosion Live 2012'.
The CD contains 17 studio recordings from the acts involved and the DVD collects contains eleven performances from Lord John Hutchinson, Bunny Marrett, Dennis McCalla aka Dallas, Popsy Curious, Glen Crookes, Dan Ratchet, Jashwha Moses and Talisman, who also provide backing for the other acts.
The CD/DVD package is now available and profits will be donated to The St. Paul's Carnival in Bristol.